If you came to JavaOne 2012 or watched they keynote online you would have seen a cool proof of concept we did along with Canoo and Navis. In case you missed it, its on YouTube:
It was built on a early JavaFX prototype with added 3D mesh, Camera and Lighting support. The first public build of JavaFX 8 with the official support for this is now out for you to download, yay!
Download Java 8 EA b77 (including 3D) …
At the moment there is only support for Windows but a OpenGL version for other platforms is being worked on.
For a list of 3D features that are being worked on then check out the Open JFX wiki:
wikis.oracle.com – OpenJDK – 3D Features
Here is a very simple example to help you get started:

import javafx.application.Application;
import javafx.scene.*;
import javafx.scene.paint.Color;
import javafx.scene.paint.PhongMaterial;
import javafx.scene.shape.*;
import javafx.stage.Stage;

public class Shapes3DViewer extends Application {
    @Override public void start(Stage stage) {
        PhongMaterial material = new PhongMaterial();
        material.setDiffuseColor(Color.LIGHTGRAY);
        material.setSpecularColor(Color.rgb(30, 30, 30));

        Shape3D[] meshView = new Shape3D[] {
            new Box(200, 200, 200),
            new Sphere(100),
            new Cylinder(100, 200),
        };

        for (int i=0; i!=3; ++i) {
            meshView[i].setMaterial(material);
            meshView[i].setTranslateX((i + 1) * 220);
            meshView[i].setTranslateY(500);
            meshView[i].setTranslateZ(20);
            meshView[i].setDrawMode(DrawMode.FILL);
            meshView[i].setCullFace(CullFace.BACK);
        };

        PointLight pointLight = new PointLight(Color.ANTIQUEWHITE);
        pointLight.setTranslateX(800);
        pointLight.setTranslateY(-100);
        pointLight.setTranslateZ(-1000);

        Group root = new Group(meshView);
        root.getChildren().add(pointLight);
        
        Scene scene = new Scene(root, 800, 800, true);
        scene.setFill(Color.rgb(10, 10, 40));
        scene.setCamera(new PerspectiveCamera(false));
        stage.setScene(scene);
        stage.show();
    }

    public static void main(String[] args) {
        launch(args);
    }
}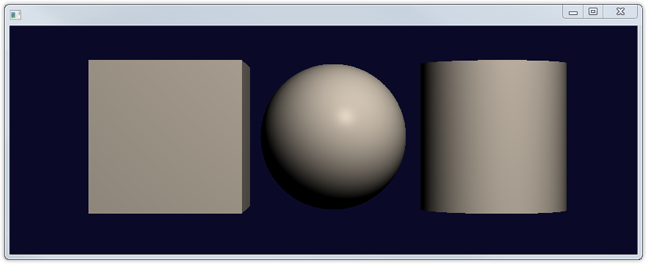 I can't wait to see what sort of cool things you guys will be able to do with it 🙂